The Complete Highway Survey Solution
Complete, accurate and cost-effective survey data.
Mobile mapping/LIDAR point clouds and topographic surveys are used to extract outputs as per your specification. Our teams regularly deliver 3D AutoCAD and MicroStation models; IAM 184/14 Highways Agency data and CAD standard (…delivery and transfer of CAD/BIM files to the Highways Agency and its supply chain) compliant models; and Bentley MX Models
We are certified for meeting the requirements for the provision of technical consultancy & design services to the utility, construction and transport sectors.
Highways surveys accurately represent the layout of the road and any affiliated assets including drainage, utilities, buildings and overhead wires.
In accordance with Chapter 8 of the Traffic Signs Manual, our teams are accredited with Streetworks Unit 2 & 10 – Signing, Lighting & Guarding, and our advanced methodology allows us to deliver comprehensive surveys of carriageways and public highways with the least possible disruption.
"It is a priority to get it right from the start"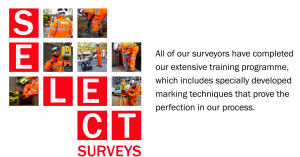 Our management team has accumulated over 400 years' experience, working with over 150 clients and liaising with Councils & Stakeholders year on year, to find solutions in design and delivery. Our formula achieves an unprecedented level of accuracy, innovation and success in practical and problem-free solutions.
As-Built Surveys are fully compliant with Section 38, 102, 104, 106, 185, 278 and as detailed in the latest revision of Sewers for Adoption