Select Surveys Carbon Reduction Plan
Publication date: February 2023
Commitment to achieving Net Zero
Select Surveys is committed to achieving Net Zero emissions by 2050 in line with the government target.
However, we are working to develop a full implementation plan which should enable us to bring this forward ahead of the government target.
Baseline Emissions Footprint
Baseline emissions are a record of the greenhouse gases that have been produced prior to the introduction of any strategies to reduce emissions. We will use our baseline emissions as the reference point against which future emissions can be measured.
We began collecting data on emissions in 2021, therefore we will be using 2021 as our baseline year for reporting and all subsequent years will be measured against this.
As per the guidance, all Scope 1 and Scope 2 emissions have been calculated and reported for the baseline year as well as a defined subset of Scope 3 emissions. Where we were unable to calculate due to insufficient data, we have chosen to prioritise data collection in 2022 and will include these categories in future reporting. The following 5 defined categories have been considered in the assessment of Scope 3 emissions:-
4 – Upstream transportation and distribution – We did not have sufficient data to calculate a baseline for this category in 2021. We have requested data from all our key suppliers to better understand the emissions involved in the transportation and distribution of goods to us in future years.
5 – Waste generated – The waste generated from our operations is general domestic type waste arising from a typical office environment, which is disposed of via Local Authority waste collection services, aerosol cans, paper and cardboard and ink cartridges which are all recycled. Where exact waste disposal data is not available i.e. weight of general waste to landfill, we have used UK averages.
6 – Business travel – Including public transport and use of employees personal vehicles for work-related activities. We have also included overnight hotel stays in this category.
7 – Employee commuting – As the majority of our staff go to job sites straight from their homes we have included this travel in Scope 1 (Fuel) instead of employee commuting. We calculated all other office-based employees commuting emissions by conducting a survey of commuting behaviour. This data makes up category 7 emissions.
9 – Downstream transport and distribution – Select Surveys do not generate any emissions from the transport or distribution of our services, apart from fuel and electricity used to deliver these services, which has been included in Scope 1 and 2.
Baseline Year: 2021
The total CO2 emissions were calculated using the Tier 1 Calculation Method.
EMISSIONS
TOTAL (tCO2e)
Scope 1
250.46 tCO2e
Scope 2
4.75 tCO2e
Scope 3
Category 4 = unknown

Category 5 = 0.3635 tCO2e

Category 6 = 11.696 tCO2e

Category 7 = 8.54 tCO2e

Category 9 = 0 tCO2e

Total =  20.5994 tCO2e

Total Emissions
275.81 tCO2e

Year: 2022

The total CO2 emissions were calculated using the Tier 1 Calculation Method.
EMISSIONS
TOTAL (tCO2e)
Scope 1
233.21 tCO2e
Scope 2
8.3 tCO2e
Scope 3
Category 4 = unknown

Category 5 = 0.3627 tCO2e

Category 6 = 11.526 tCO2e

Category 7 = 4.47 tCO2e

Category 9 = 0 tCO2e

Total =  16.3587 tCO2e

Total Emissions
257.87 tCO2e
Emissions by category
In order to monitor which areas we need to reduce the most, we have broken down the categories further and looked at the individual elements that make up our carbon emissions.
Given that our main business activity is providing services it is no surprise that our emissions mainly arise from fuel.
In order to continue our main business activity we will not be able to reduce the number of miles driven, however we will regularly assess the feasibility of switching to biofuel and/or electric vehicles in order to reduce emissions.
All other categories have minimal emissions which will endeavour to reduce even further.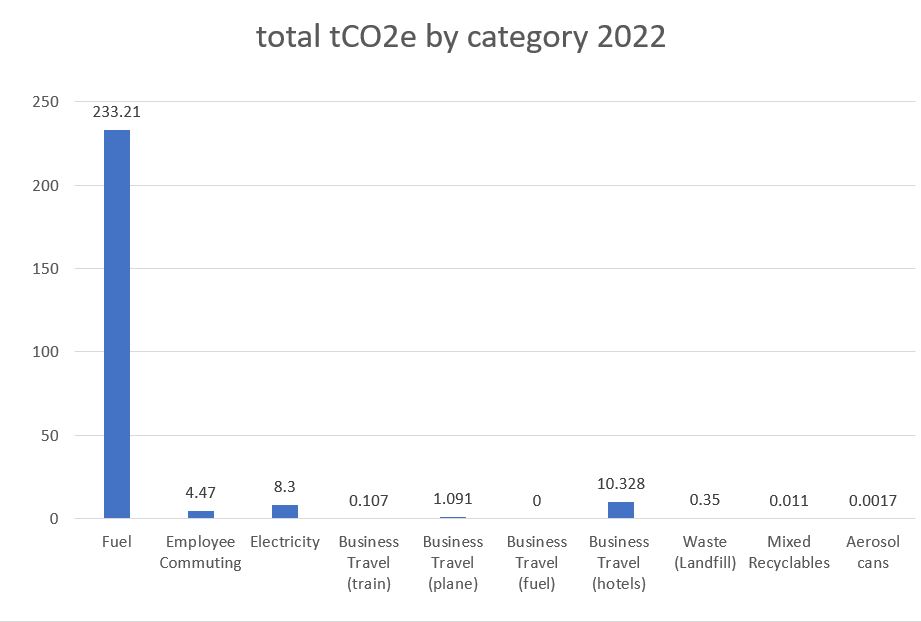 Emissions reduction targets
In order achieve Net Zero by 2050, we have adopted the following carbon reduction targets.
We will aim to decrease emissions by 50% by 2035, and by 100% by 2050 through the Carbon Reduction Initiatives set out in the next section (see graph below).
We will be better placed to determine our targets for reductions once we have all the information needed from our supply chain for scope 3 emissions so will review or targets each year or when we have new data.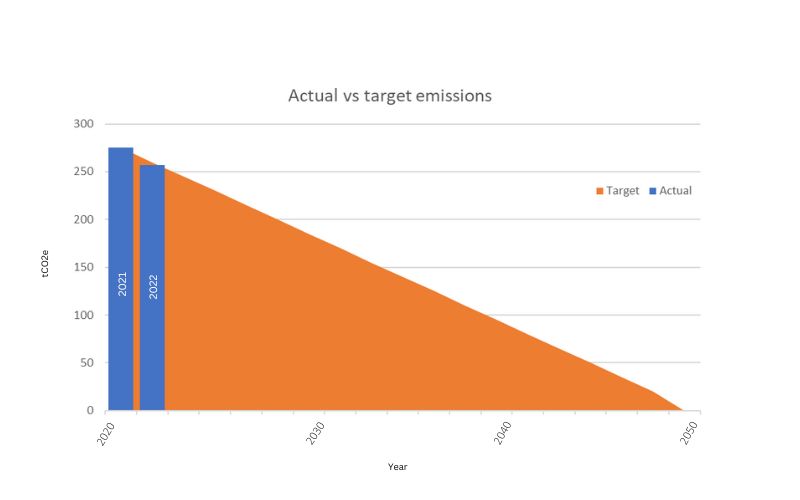 Carbon Reduction Projects
The following carbon reduction initiatives are currently being implemented within Select Surveys to reduce our emissions.
The adoption of online meetings as opposed to face-to-face wherever possible as standard practice across the company to reduce miles driven and fuel emissions produced.
Staff are not expected to come into the office to pick up vehicles or equipment on a daily basis. Instead, flexible working means they only need visit head office when necessary.
Wherever possible jobs are allocated to staff based on their location to reduce excess mileage.
Our fleet is replaced every three years with Euro Cat 6 / ULEZ compliant vehicles to give the best carbon efficiency and lowest emissions possible.
Cycle to Work scheme is currently available to all staff to encourage greener travel
We recycle all materials available
LED bulbs installed as standard at Head Office
Sensor lights installed in head office where possible to ensure lights are not left on
Encourage staff to reduce their carbon footprint by providing them with reusable metal water bottles to replace plastic ones.
Promote carbon reduction ideas for employees to implement both at home and work in our monthly staff newsletter and at any future Select Surveys conferences.
In order to better understand our Scope 3 emissions and ensure our supply chain working towards the same Net Zero goal we will request that our suppliers provide a CRP of their own.
In future we hope to implement a number of new initiatives to further reduce our emissions. We will be investigating the feasibility of the following projects over the coming months :
Determine the feasibility of installing solar panels at our head office.
Look into the feasibility of switching from diesel to Biofuel.
Regularly assess the viability of switching to Electric Vehicles.
By 2030 we will offset any carbon usage that we are unable to reduce due to it being integral to business operations i.e. fuel and electricity.
Declaration and Sign Off
This Carbon Reduction Plan has been completed in accordance with PPN 06/21 and associated guidance and reporting standard for Carbon Reduction Plans.
Emissions have been reported and recorded in accordance with the published reporting standard for Carbon Reduction Plans and the GHG Reporting Protocol corporate standard[1] and uses the appropriate Government emission conversion factors for greenhouse gas company reporting[2].
Scope 1 and Scope 2 emissions have been reported in accordance with SECR requirements, and the required subset of Scope 3 emissions have been reported in accordance with the published reporting standard for Carbon Reduction Plans and the Corporate Value Chain (Scope 3) Standard[3].
This Carbon Reduction Plan has been reviewed and signed off by the board of directors (or equivalent management body).
Signed on behalf of Select Surveys:
Name: Deme Cordell
Role: Managing Director
Date: 01/02/23
[1]https://ghgprotocol.org/corporate-standard
[2]https://www.gov.uk/government/collections/government-conversion-factors-for-company-reporting