Select Surveys use the latest innovations in laser scanning technology to support our clients as the output straight from a laser scanner is a 3D point cloud and High Definition imagery. This highly accurate and detailed information can be modelled to produce an enhanced deliverable in a suitable format that our clients can use, helping them make important decisions in their work.
This is particularly evident for projects working in the BIM process. Laser scanning delivers information straight into a 3D model providing highly accurate survey data, with the ability to easily verify the actual construction against the design and being able to identify errors and design constraints at an early stage, delivering time and cost savings.
The detailed 3D information is provided to our clients for all types of applications including enhanced visualisation of projects, re-development of complex sites such as electricity sub-stations, asset management and public consultation videos.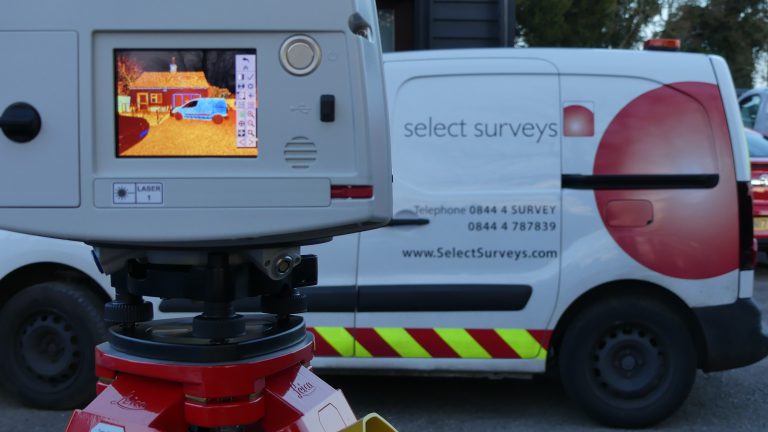 Select Surveys use laser scanners that measure up to 1 million points a second and a measurement range of over 1 km. This maximises our productivity on site and supports our clients in many ways:
We can remotely capture data on potentially dangerous areas such as roads and motorways
We can capture data faster especially on sites with limited access
The increased accuracy of data capture reduces risk and improves decision making
Increased detail in the 3D model deliverable increases construction project productivity
There are many deliverables available by using laser scanning technology for data capture on projects. These include simple 2D plans and elevations, 3D models, imagery, fly-through videos and point clouds.
Using laser scanning technology for data capture delivers benefits on many different projects, including with topographic surveys, building surveys, construction inspection & verification, heritage surveys, engineering and monitoring. This combines with our high quality utility surveys, providing a complete view of projects to support decisions by our client both above and below the ground.
Quote enquiry
Make contact with us, complete our short quote enquiry form and start a conversation about your project.
Complete quote form
Accreditations
We take pride in giving exceptional service. No matter how big the project or how small the request, we strive for excellence in our response.