Select Surveys are pleased to be supporting Highways UK 2019 at the NEC in Birmingham on November 6th/7th this year. With the event going from strength to strength, we are looking forward to being in the exhibition area on stand L44.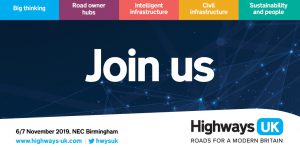 This is looking to be an exciting event with lots of great exhibitors, presentations and networking opportunities dedicated to the UK's road networks.
This year we will be showcasing our capabilities from industry leading Geospatial data capture, BIM and Augmented Reality products and services like Augview.
We welcome you on to our stand to discuss all your data collection, modelling, management and visualisation needs. Select Surveys have expertise collecting data above and below the ground, from the location of existing assets or structures, detecting buried services, to 3D point clouds and modelling. This data can be managed through the BIM workflow, conforming to client specifications and standards. Our vast experience of delivering and managing data through the BIM process on rail and infrastructure projects means we are the perfect partner to help you with your BIM projects.
On the stand we will be demonstrating our Augmented Reality application Augview, which allows geospatial data to be visualised in AR using your smartphone or tablet.
Select Surveys are the UK distribution partners for Augview and we can help you configure and manage your own data, making it available to use within the Augview app. Whether it is buried utility data, or pre-construction design data, Augview helps you easily visualise the information on site, saving time and money.
We look forward to seeing you at Digital Construction Week. Our team will be available to discuss all other aspects of measurement, positioning and visualisation of the built environment.
To register to attend the event, please click here.
To find out more about Highways UK, please click here.
Before you go, connect with us on LinkedIn or Get in Touch to arrange meeting us at the event.