Select Surveys are extremely proud to have been recognised for their outstanding quality of work on HS2 projects, in the first Fusion Star Supply Chain Awards 2022.
Select Surveys have led on the innovation and improvements of surveys
In February Fusion's Project Director, Tom Moore and members of the Senior Leadership Team announced their winners for 'Collaboration', 'Good Neighbour' and 'Quality' in the Fusion Star Awards.
The award recognises those in the supply chain who have gone above and beyond to deliver on projects for Fusion.
Select Surveys have been supporting Fusion with Utility Surveys since 2019, contributing to essential works on HS2 projects.
Announcing why Select Surveys were chosen as the overall winner in the Quality category, Tom Moore, Project Director for Fusion said:
"Select Surveys have worked on our project in all sectors carrying out PAS128 buried services surveys and the issuing of Permits to break ground for over two years. In that time, they have consistently delivered a professional and quality driven service.
"Select Surveys produced all the required quality documentation prior to works commencing on site and maintained all the required documentation within the required time frames to a very high standard.
"Select Surveys were uncompromising in their approach to the quality of the data they produced and in the method of its collection, this ethos was lead from the top and was evident throughout their organisation."
The award was presented to Select Surveys Project Manager, Jake McCabe and Managing Director Deme Cordell for their direct input on the delivery of these projects. Speaking ahead of the award presentation McCabe commented:
"Quality is something we pride ourselves on at Select Surveys. I'm extremely proud to receive an award for quality, especially on such a prestigious project and would like to thank everyone within the Select Surveys team who has worked on this project for their consistent hard work"
Winning this award has further cemented Select's status as one of the highest quality survey companies in the UK. Despite having other survey companies also working on HS2 projects, Select Surveys are the most trusted to deliver accurate results.
 "Select Surveys were on several occasions used to check the surveys by others and correct the inaccurate data and as such set the mark on the expected quality level on our project. Select Surveys have led on the innovation and improvements of surveys", Moore concluded.
Select Surveys continues to work with Fusion on HS2 and will remain dedicated to delivering the highest quality results on every project.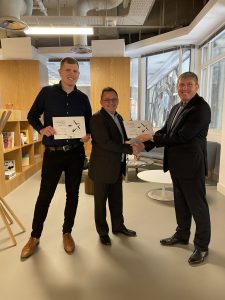 Photo: Award presented to Jake McCabe, Project Manager, Select Surveys (left) Deme Cordell, Managing Director, Select Surveys (centre) by Ian Williams, HSQE Director, Fusion (Right)